New Patients at Oliver Dental & Implants
One of our dentists' favorite things about being a dentist in Colleyville is welcoming new patients into our care.
Every day at Oliver Dental & Implants, the entire team helps patients find honest, effective, and advanced dental care that exceeds their expectations.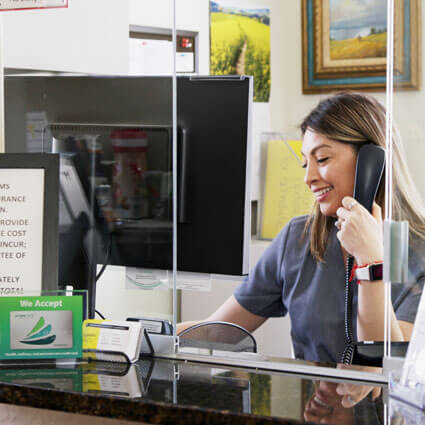 The First Visit
Upon entering our comfortable, inviting practice, patients are typically greeted by name. If they haven't already filled out their new patient paperwork online, a member of the staff will help them do so. New patients should bring their insurance card if they plan to use it. For cash patients, the practice is happy to offer an in-house discount program. Ask a member of our team about the details upon arrival!
Patients are welcome to relax in the waiting area until one of our dentists are ready for them-which is never too long-Oliver Dental & Implants takes pride in running on time to respect every patient's schedule.
Comprehensive Exam
After an assistant or hygienist brings them back, a comprehensive exam will be done, including x-rays, so that our dentist can get the best possible understanding of what's going on inside a patient's mouth. This way, we are able to recommend the appropriate care plan that can bring them the beautiful results they deserve.
If a treatment plan beyond a general checkup and clean is recommended, a treatment coordinator will discuss any fees up front so patients have a full understanding of their financial responsibility. Here, we never want any surprises. In fact, we takes great pride in offering care that's honest, effective, and affordable.
Expect to spend about one hour in the practice during a new patient visit.
Learn More Today
Have questions about care with Oliver Dental & Implants? Our dentists and the entire staff are here to answer whatever question a prospective patient may have. Get to know more about each staff member and how they can help by contacting the team today.
Contact Us »

New Patients at Oliver Dental & Implants | (682) 738-3029