Meet Dr. Laurence Oliver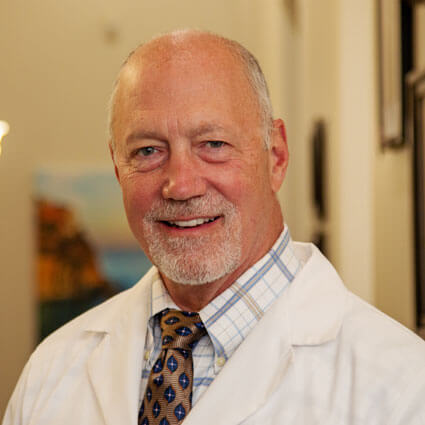 When Dr. Oliver was young, he spent a lot of time at his friend's father's dental office. He always enjoyed his time there, and became interested in the field of dentistry.
Later on, he spent time working as a surgical orderly in a hospital. While there, he met an oral surgeon who became an early mentor and helped him apply to dental school.
The rest, as they say, is history!
Dr. Oliver went on to attend the renowned Texas A&M Dental School, graduating in 1983 with his DDS. Shortly after, he opened his practice in Colleyville, where he has been practicing with wonderful patients for nearly 30 years. Every year, he participates in professional development courses to stay up to date with the latest advancements and trends in dentistry.
Explore Our Services »

Dr. Oliver's Philosophy
Dr. Oliver believes in offering care that's unique to every patient he has the pleasure of meeting. Here, you won't find a "cookie-cutter" approach to dentistry. Instead, he works to understand a patient's ultimate goals and deliver a beautiful, natural looking result. He aims to make patients a partner in their care, helping them understand the intricacies of oral health and how to keep their smile healthy for years to come.
He is a fellow of the International College of Dentists and the American Society of Geriatric Dentistry. Dr. Oliver is also a member of the American Academy of Implant Dentistry, American Dental Association, and the Texas Dental Association.
Outside of the Practice
When he isn't crafting beautiful smiles in the practice, he loves to travel and ride his bike, sometimes venturing over 100 miles per ride. He's also a piano player, with his favorite composer being Frédéric Chopin.
Dr. Oliver has a passion for giving back to his community, and is proud to work with a local women's shelter to transform smiles and improve confidence.
Dr. Oliver loves welcoming patients of all walks of life into his care. Get to know him better by booking a visit today and discover how Oliver Dental & Implants transforms smiles.
Contact Us »

Dr. Laurence Oliver | (682) 738-3029