Dental Implants in Colleyville
What's the Dental Implant Process Like?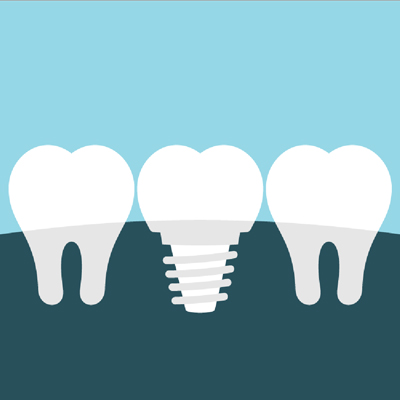 Our dentists begin the dental implant process by first examining a patient's mouth to determine if they're a candidate for care, or if another option like dentures or bridges may be better. If a person is a candidate for implants, all financial costs will be covered before care ever begins. Implants require three steps:
Placing a titanium fixture into the jaw bone to replace the root of the missing tooth. After a few months, the fixture and jaw bone form a strong bond, which is what holds the implant in place.
Next, an abutment is added, which helps to anchor the crown to the portion of the implant under the gum.
Lastly, a custom made crown or bridge is placed over the implant. Once the crown is placed, a patient can smile beautifully, speak properly, and even eat better!
With proper care, dental implants can last for years. In fact, we have even seen implants last for the remainder of a patient's life.
Frequently Asked Questions
Who is a candidate for dental implants?
Whether you are a young, middle-aged or older adult; whether you need to replace one tooth, several teeth, or all your teeth, there is an implant solution for you. With the exception of growing children, dental implants are the solution of choice for people of all ages.
Do you offer in-office sedation for your patients?
Yes, we have several options available:
IV sedation with a dental anesthesiologist
Oral sedation
Nitrous Oxide (laughing gas)
The i-CAT is an advanced dental imaging CAT scan machine which allows the doctor to visualize the patient's jaws in 3-D. The scan procedure is very simple and only involves sitting in a special chair for a few seconds. The scan is extremely accurate and allows the doctor to measure the bone volume and density. By proper measurement of the bone and visualization of the nerves and blood vessels, the dental implantologist can determine which areas of the jaw are best suited for implant placement.
Is there a point where a person is too old for implants?
Age is generally not a significant factor in determining if a patient is a candidate for implants. Our dentists have successfully treated many patients in their nineties and has over 20 years of experience treating nursing home patients. A patient's overall medical condition and the medications they are taking usually are much bigger factors in determining candidacy.
What if I have existing medical problems?
If you can have routine dental treatment, you can generally have an implant placed. While precautions are advisable for certain conditions, patients with chronic diseases such as high blood pressure and diabetes are usually successful candidates for dental implant treatment.
Schedule A Visit
Considering implants? Our dentists are eager to help and look forward to welcoming new patients into the practice. There's nothing the team likes more than helping patients smile with confidence again. Get to know more about the advanced options offered here by booking a visit with Oliver Dental & Implants today.
Contact Us »


Dental Implants Colleyville, Grapevine, Euless TX | (682) 738-3029