This simple, safe treatment is carried out right in the practice, and available to anyone who has had previous smile restorations involving crowns.
What Is It?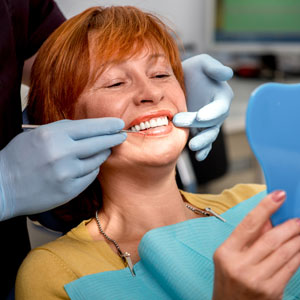 Crown lengthening helps to reveal more of a dental crown, which involves removing some of the gum tissue to create a more even smile appearance.
This treatment is carried out in the practice in just one office visit lasting roughly an hour. Before treatment begins, Our dentists will want to take X-rays and speak with patients to get a better idea of their concerns and questions. Health history will also be reviewed, as well as an examination of the patient's smile and gums.
Treatment is carried out with an advanced laser system and carries very little risk to the patient. We will provide after-care instructions, though patients are typically able to continue about their day immediately following their visit. Patients will be anesthetized during their treatment, so they won't feel any pain.
Learn More About Crown Lengthening
We encourage all interested patients to book an appointment to learn more about crown lengthening and how it can help them achieve a beautiful smile. Contact the practice today to begin the process!
Contact Us »


Crown Lengthening Colleyville, Grapevine, Euless TX | (682) 738-3029