How ClearCorrect Works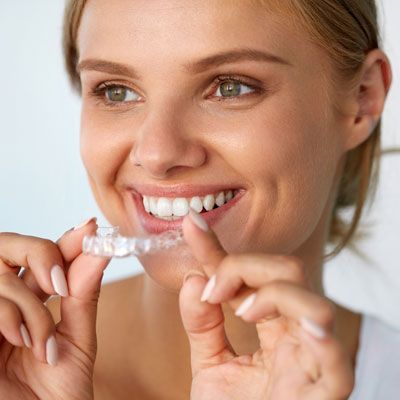 The ClearCorrect system is a safe and effective way to achieve a straighter smile without using metal wires and brackets attached to teeth.
The first step is to book a consultation with Dr. Oliver to determine candidacy. If he determines ClearCorrect can help a patient, he'll move forward with taking impressions of the teeth. These impressions are then sent to a ClearCorrect lab where a patient's custom trays are made.
Treatment can begin as soon as a patient's trays arrive back to the practice. Each tray will be worn for a couple of weeks at a time. Dr. Oliver will provide each patient with their care plan so there won't be any surprises.
By the end of the tray series, a patient's smile will have reached their final desired result. That means they can now beam beautifully and show off a smile that they're proud of.
Frequently Asked Questions
How long until my teeth are straighter?
Though it depends on a patient's unique case, this advanced system can straighten a smile in as little as six months. A typical course of treatment lasts anywhere from six months to one year. Dr. Oliver will go over everything with each patient so they're fully aware of their treatment.
Some patients may notice pressure, headaches, or soreness when they swap out one tray for a new one in the series. That's because each tray is designed to apply pressure to certain areas of the teeth in order to pull them into proper alignment. After a couple of days of wearing a new tray, patients shouldn't have any discomfort.
Is there an age limit for this treatment?
Oliver Dental & Implants can perform ClearCorrect aligners for patients ages 13 and up. Many adults choose to go with this system over traditional metal braces as they're invisible and no one can tell that a person is wearing them.
Can someone with a crowded smile wear ClearCorrect?
Absolutely. Patients with spacing problems, gaps between teeth, bite issues, and more may be candidates for this system. The best way to find out is to book an appointment with Dr. Oliver today.
Get A Straighter Smile Today
Dr. Oliver looks forward to welcoming new patients and helping them understand if they're a candidate for ClearCorrect aligners. Find out by booking a visit with our practice today.
Contact Us »

ClearCorrect Colleyville, Grapevine, Euless TX | (682) 738-3029